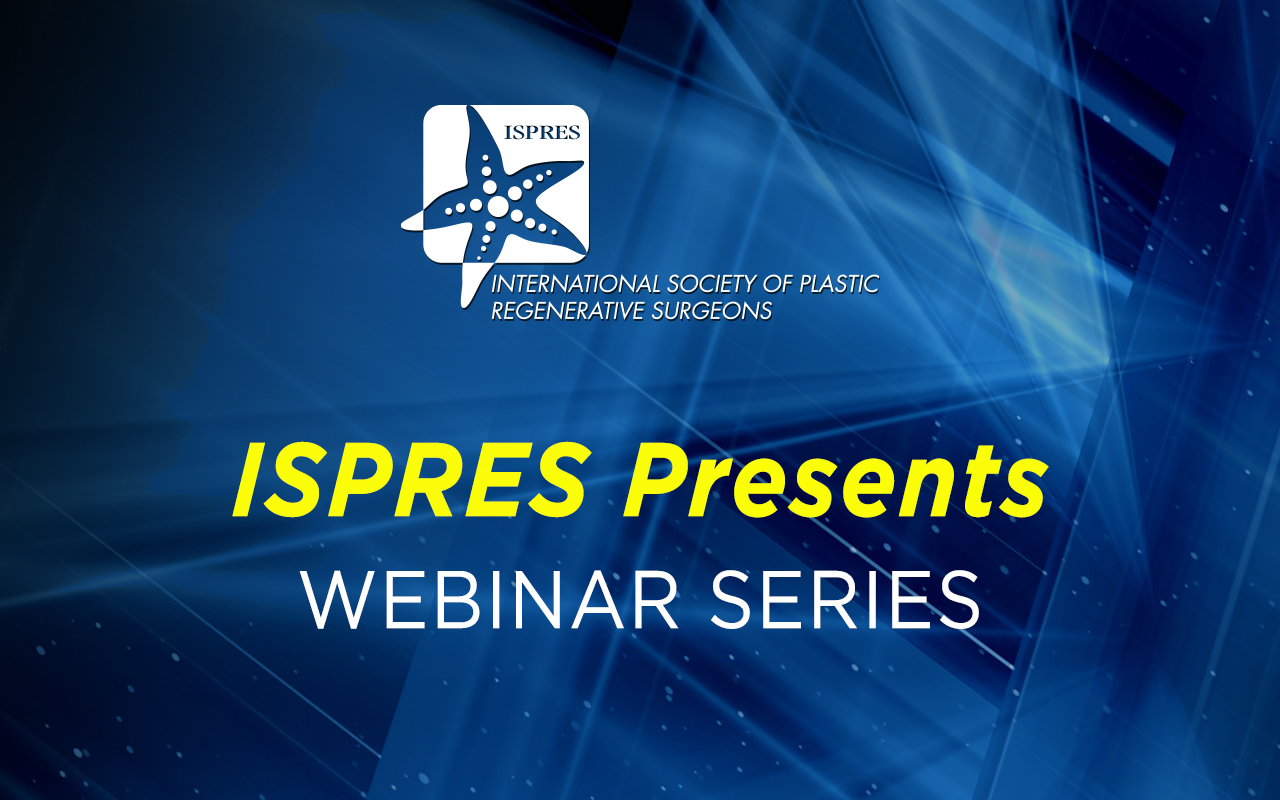 The International Society of Plastic Regenerative Plastic Surgeons has launched a webinar series ISPRES Presents. Webinars will provide an interactive forum to provide insight and discuss hot topics related to the regenerative medicine and plastic surgery.
ISPRES webinars are complimentary to ISPRES members and may expand beyond the membership dependent on the topic.
As we finalize the schedule, the Online Education Committee, chaired by Sydney Coleman, MD, is accepting topics for consideration. To suggest webinar topics, please email Membership@ISPRES.org.
For more information about becoming a member: ISPRES.org/Join
Past Webinars
Log in to your ISPRES member account to watch past presentations
Top Five Questions in Fat Grafting
Speakers: Gino Rigotti, MD (Italy), Roger Khouri, MD (United States), Norbert Pallua, MD (Germany) and Guy Magalon, MD (France)
Moderators: Lee Pu, MD (United States) and Nelson Piccolo, MD (Brazil)
Advanced Breast Fat Grafting Using Threads
Speakers: Marwan Abboud, MD (Belgium), Roger Khouri, MD (United States) and Giuseppe Visconti, MD (Italy)
Moderators: Lee Pu, MD (United States)
Does My Gadget Make a Difference, Part 2 - Locked and Loaded? What Type of Gun Do You Use? Maft Gun
Speakers: Tsai-Ming Lin, MD (Taiwan) and Nelson Piccolo, MD (Brazil)
Moderators: Brian Kinney, MD (United States)
Does My Gadget Make a Difference, Part 1 - Lipocube
Speakers: Steven Cohen, MD (United States) and Tunc Tiryaki, MD (United Kingdom)
Moderators: Brian Kinney, MD (United States) and Alexandra Conde-Green, MD (United States)
Plastic Regenerative Surgery and Mechanical Preparation of Fat Emulsified Fat-Micronized Fat
Speakers: Patrick Tonnard, MD (Belgium), Alexis Verpaele, MD (Belgium) and Guy Magalon, MD (France)
Moderators: Nelson Piccolo, MD (Brazil) and Sydney Coleman, MD (United States)
Living with Level 5 Evidence, My Technique is Better than Yours
Speakers: Aris Sterodimas, MD (Greece) and Ramon Lull, MD (Spain)
Moderators: Sydney Coleman, MD (United States) and Brian Kinney, MD (United States)
Physiology, Does Size Matter?
Speakers: Guy Magalon, MD (France) and Brian Kinney, MD (United States)
Moderator: Ewa Siolo, MD (South Africa)
Instrumentation in Fat Grafting 4
Difficult Harvesting of Fatty Tissue
Speaker: Guy Magalon, MD (France)
Moderator: Sydney Coleman, MD (United States)
Instrumentation in Fat Grafting 3
Fundamental Principles of Tissue Regeneration & Clinical Applications
Speakers: Roger Khouri, MD (United States)
Advanced Pre-Filter Harvesting with a 300 Hole Cannula Plus Precision Injection of Microaliquots with MAFT Gun
Speaker: Brian Kinney, MD (United States)
Moderator: Sydney Coleman, MD (United States)
Instrumentation in Fat Grafting 2
What I Am Using & What Is the Easiest and Most Economic Way to Start a Large Volume of Fat Grafting
Speaker: Kotaro Yoshimura, MD (Japan)
Fat Grafting for Facial Rejuvenation and Contouring: My Preferred Approach
Speaker: Lee Pu, MD (United States)
Moderator: Sydney Coleman, MD (United States) and Brian Kinney, MD (United States)
Instrumentation in Fat Grafting 1
Essential Instruments for Beginning of Fat Grafting
Speaker: Ewa Siolo, MD (South Africa)
Fat Grafting via the Coleman Technique - Our Method and Instrumentation in Brazil
Speaker: Nelson Piccolo, MD (Brazil)
Moderator: Brian Kinney, MD (United States)
Fat Grafting & Early Regenerative Surgery: Coleman Fat Grafting the Beginning of an Evolution
Speaker: Sydney Coleman, MD (United States)
Moderator: Nelson Piccolo, MD (Brazil)
What is Fat Grafting & Regenerative Surgery?
Speaker: Alexandra Conde-Green, MD (United States)
Moderator: Sydney Coleman, MD (United States)
Surviving the Coronavirus (COVID-19) Pandemic: An International Perspective from Regenerative Plastic Surgeons
Chair: Amin Kalaaji, MD (Norway)
Moderators: Sydney Coleman, MD (United States) and Aris Sterodimas, MD (Greece)
Panelists: Kotaro Yoshimura, MD (Japan), Ewa Siolo, MD (South Africa), Nelson Piccolo, MD (Brazil), Stefania DeFazio, MD (Italy), Ramon Lull, MD (Spain), Alexandra Conde-Green, MD (United States), Brian Kinney, MD (United States)
Guest Speakers: Albert D. Donnenberg, MD (United States) and Vera Donnenberg, MD (United States)
---